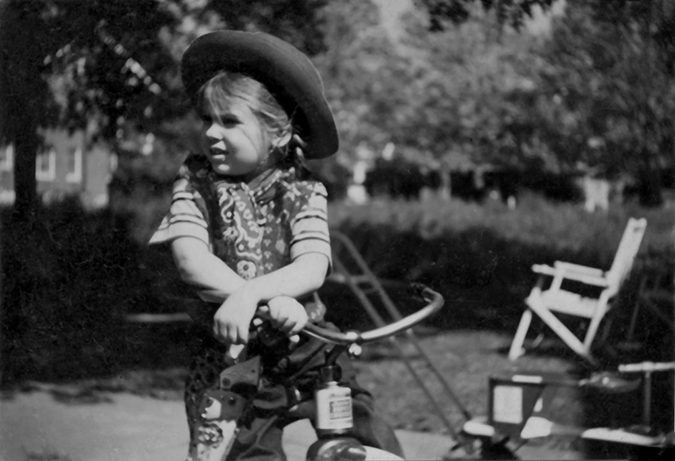 Biography
Judith Page
was born in Lexington, Kentucky, and studied art at the University of Kentucky and Transylvania University. Early influences were her father, an amateur historian, photographer, and raconteur, who instilled in her a love and respect for history and the creative process; the photographer Ralph Eugene Meatyard (her childhood optician), who influenced her through his commitment to a Gothic vision; and writers such as Flannery O'Connor, William Faulkner, and Carson McCullers who provided her with many potent visual images. Other influences include the Roman historian Tacitus; the politician Cassius Clay; the musicians Jean Ritchie and John Jacob Niles; and Southern vernacular artists such as Bill Traylor and Howard Finster. Page says that her "art emerges from a Gothic sensibility, a place where horror and beauty exist in close proximity, where innocence encounters depravity, where the spirit is consumed and revived from moment to moment."
Page lived and worked in Florida until relocating to New York City in 1993, and currently lives in the Williamsburg section of Brooklyn. She received Individual Artist's Fellowships from the Gottlieb Foundation in 2012 and 2002, from the Pollock-Krasner Foundation in 2005-06 and 1998-99, from the State of Florida in 1992-93 and 1983-84, and was a Thomas P. Johnson Distinguished Visiting Scholar at Rollins College in 2001. Exhibitions include
The Photograph as Canvas
, The Aldrich Contemporary Art Museum, Ridgefield, CT;
I'm Not Like Everybody Else,
Teapot, Cologne, Germany;
Disarming Beauty: The Venus de Milo in 20th Century Art,
Dali Museum, St. Petersburg, FL; and solo exhibitions at Islip Art Museum, East Islip, NY; Luise Ross Gallery, New York, NY; Wake Forest University, Winston-Salem, NC; Massry Center for the Arts, The College of Saint Rose, Albany, NY; Lesley Heller Workspace, New York, NY; Hand Art Center, Stetson University, DeLand, FL and 490 Atlantic Gallery, Brooklyn, NY.
Known for her inventive use of materials and stimulating social commentary, Page's numerous exhibitions and installation projects were written about in
Art Papers, Sculpture, The Brooklyn Rail, The New York Times, Art on Paper, Arts Magazine,
and
Art in America.
In September 2008, a sixteen-page artist project was published in the literary/art journal,
Post Road.
Her work was also featured in
Aorta Magazine
(2010) and
Helen: A Literary Magazine
(2015)
.
Page's art is represented in numerous permanent collections including the Florida House of Representatives; Vanderbilt University, Nashville, TN; Islip Art Museum, East Islip, NY; Museum of Fine Arts, Tallahassee, FL; University of Kentucky Art Museum, Lexington; Mint Museum of Art, Charlotte, NC; University of TN, Knoxville; University of Iowa Museum of Art, Iowa City; and Orlando Museum of Art, FL. She was on the General Fine Arts faculty of Maryland Institute College of Art (MICA) from 2004-2011 and on the faculty of the MFA Fine Arts program at the School of Visual Arts (SVA) in New York City from 2010-2016.